Sri Chandrashekara Kripa, an elderly destitute senior citizens home was built in 1996 with the intention of providing shelter and taking good care of the elderly who had nowhere to go. Today, there are close to 40+ senior citizens living there under the care of the Trust, which attends to all their needs – accommodation, food, clothing, medical needs etc. We recently rebuilt the entire building at a cost of around 1.5 crores. Here is a virtual view through this video.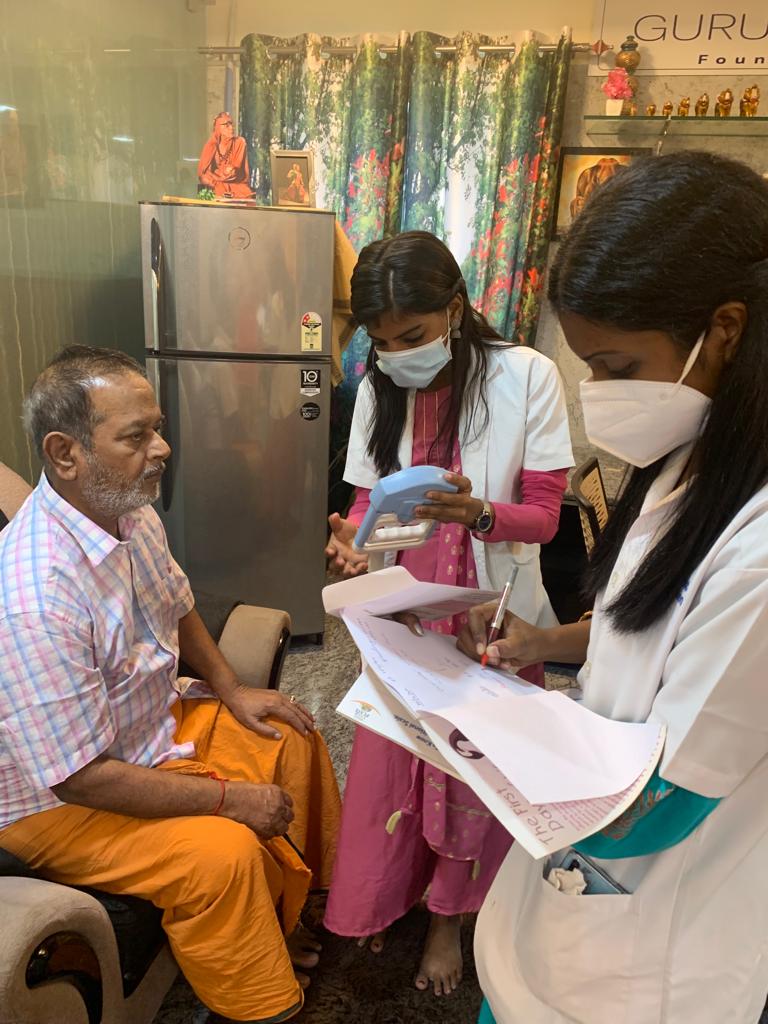 Medical Care
The Home has a three-bed medical ward, a resident qualified nurse is available in the Home all the time with weekly doctor visits. When the elders need special in-patient treatment, they are admitted into The Hindu Mission Hospital, where they are treated without doctor fees and room charges. The Trust takes care of the medicines. Charitable and social organizations like Sankara Nethralaya, Lions Club, Rotary Club, Inner Wheel, Nandalala Trust and others conduct camps inside the Trust premises providing medical aid to the community at large. 
Go Shala
Our Trust has a small Go-Shala, a protective cow shed where the elders can visit, feed and worship the cows. There are two cows and the calf in the shed. 
School Students visit
Students from different schools visit our trust occasionally along with their teachers. Our elders will all be so glad to see their grandchildren through the students. The kids also happily display their talents and entertain the elders in their usual innocent way. We like to make this students visit a regular event and show the reality to the younger generations while engaging the elderly with tiny tots which serves as a pleasant change for them.  
Special Diet Regime
A special diet regime needs to be followed when it comes to feeding the old aged people. Our senior citizens home serves only pure vegetarian food. They are served with a cup of kanji (Porridge), two meals and snacks every day besides milk, coffee, tea. Festive food is served frequently, when kind hearted donors feed the elders on occasions like the donor's birthday, wedding anniversary or on the anniversaries of their departed elders. 
Leisure Activities
We provide simple entertainment and information facilities like newspapers and TV. A Prarthna hall is a prayer place that is set up inside the Ashram where prayers take place. Many people conduct Bhajans here. On special days, we conduct many programs for entertaining aged residents. We invite young talents to perform and provide a happy mind & environment. The children from the nearby schools and colleges come to this home and engage them.
Cremation
When we lose a beloved member of our Ashram, the final cremation rites are performed by the trust with dignity and honor.
Hygienic Environment
Maintaining hygiene and sanitation is important for several reasons which includes personal, social, psychological, health. We understand the significance of hygiene which is essential for especially the elderly and it reflects in our services. RO water system is installed so the drinking water is pure. The hygiene and cleanliness of the kitchen is also taken care of well. A clean and homely atmosphere is provided for our elderly. There is a park just adjacent to the old age home where senior citizens can go for a evening walk which will help them sustain a good mental health.
Donors visit during lunch time
Kind hearted donors feed the elders on occasions like the Donor's birthday, Wedding anniversary or on the anniversaries of their departed elders. Elders offer special prayers for all the donors during their lunch time. Donors are also welcome also participate in the prayer. They can also have lunch and spend time with them. Many people like to celebrate Birthdays in the trust, the kids birthday being a very common occasion. They also prefer to make the day more memorable by engaging in Cake cutting with the elders and seeking their blessings.
Eligibility Criteria for Admission
1. Admission will be given only to senior citizens who do not have any children
2. Not mentally challenged – As per government norms we cannot admit them, there are separate organizations for mentally challenged people
3. Senior citizens only (Above 60 years)