You can express your Love, Affection and Support for our Senior Citizens and for our other social activities by contributing to Sri Poorna Maha Meru Trust. You can share your joy on a day that is special to you (e.g. your Birthday, Wedding Anniversary, Memory day etc.) by sponsoring their meals for that day. Donations are entitled to tax rebate under Sec.80g of the Income Tax Act, 1961 ( PAN No: AAATS1692Q). Our 12A registration is 125/93-94. We are registered under Tamil Nadu Social Welfare Department Vide Registration No. ROC.NO.1107/A1/2018 dated 13.12.18
Choose a Specific Fund or Cause
Our trust has a wide range of programmes for you to choose from. Take a look at them and find what speaks the most to you. 
Give a One-Time Gift
Your contribution need not be cause-specific either. No matter the size, your gesture will be put to great use for dire requirements. 
Monetary Donations
You can contribute by sending money, either within India or from Abroad through our partners which will be utilized for our day to day activities. 
Donate in Kind
You can lend a hand by donating groceries, clothes and vegetables. We can come pick it up from you in person if the contribution is large and the commute is considerably long and difficult.
Donations can be made by transferring funds(NEFT/RTGS/IMPS) to our below mentioned bank account through online transfer from any Bank account in India.Please make sure you call/Email/SMS or Whatsapp us about the donations made.
Bank Details:


Bank Name: City Union Bank




Account name: Sri Poorna Maha Meru Trust




Branch: Zamin Pallavaram, Chennai.




SB Account number: 500101011842938




IFSC Code: CIUB0000482
2. You can send funds via our UPI id through Google Pay, Phone Pay etc. Our Googlepay / Phonepay number is 9444868282. Please make sure you call/Email/SMS or Whatsapp us about the donations made.
3. Donations can also be made through our payment geteway portal for Debit Cards/Net Banking/Credit Cards/ Online Wallets- Click this link for the portal – Donate Online. 
 Please note that the payment gateway provider levies a service charge of 2.5 to 3%. If you wish to avoid that, please do a funds transfer to our bank account.
 4. You can send us a Demand Draft/Cheque drawn in favor of "Sri Poorna Mahameru Trust", payable at Chennai and send it to the address below:
Sri Poorna Mahameru Trust
No 1. Sankara Salai, Subam Nagar,
Old Pallavaram , Chennai- 600 117
5. By cash – Please visit our Office at Address above. 
6. CSR Initiatives – A number of organizations have a supported us as a part of their CSR initiatives – ONGC, Apollo Hospitals, Dun and Bradstreet,Lister Technologies, Sri Krishna Sweets to name a few. We would be happy to faciliate any CSR activity on our premises. Please do contact us for more details.
Donors from Abroad(FCRA Account)
)Sri Poorna Mahameru trust is registered with the Ministry of Home Affairs, Government of India to receive contributions from abroad under the FCRA Act. (FCRA Registration No: 075901018 ).
1. Abroad donations to Sri Poorna Mahameru trust can be made through our partner organisation "Omprakash". Click below to donate:
For U.S donors, Donations will be fully tax exempt under the section 501(c)(3) of the U.S Internal Revenue service Rules. 
2. Donate via Mahameru Foundation (MMF) – MMF is our sister organization in USA(EIN is: 84-4064677)
. You can do a wire transfer to the below account:
 Name of the Bank: M & T Bank
Account Name: MAHA MERU FOUNDATION INC 
Routing Number: 052000113
Account Number: 9866402739
Or you can send a cheque to the below address
Mira Chandramouli 
11445 Frances Green  Drive
North Potomac  MD 20878
3. Alternatively, Donors can also transfer funds via wire transfer/ SWIFT to the below mentioned account number.
Bank Name: State Bank of India
Account name: Sri Poornamahameru Trust
Branch: New Delhi Main Branch India (00691)
FCRA Savings Account number: 00000040106181943
Swift Code: SBININBB104
Old Age Home
When it comes to aiding the elderly, a lot of essentials has to be taken care of which includes the diet, hygiene of the surroundings, entertainment and especially healthcare. We have intended to satisfy all of them.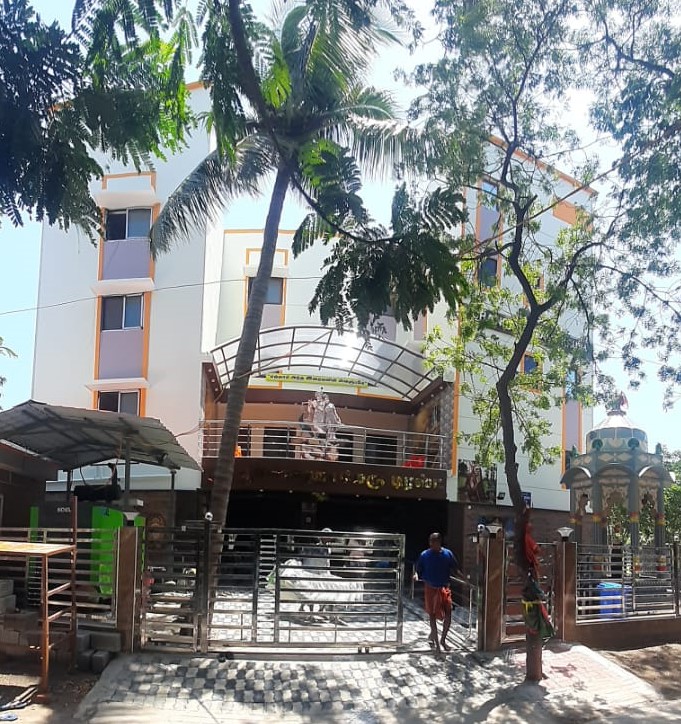 Building Reconstruction
We had completed the Re-construction of our old building which became irreparable into senior citizen friendly building by May 2021 with the huge support of our donors. It's a three-floor building, built-in dormitory-style which can accommodate 12 elders on each floor. The building is senior citizen friendly which contains special amenities such as Lift, anti-skid tiles, common TV place, spacious balcony, and a small library.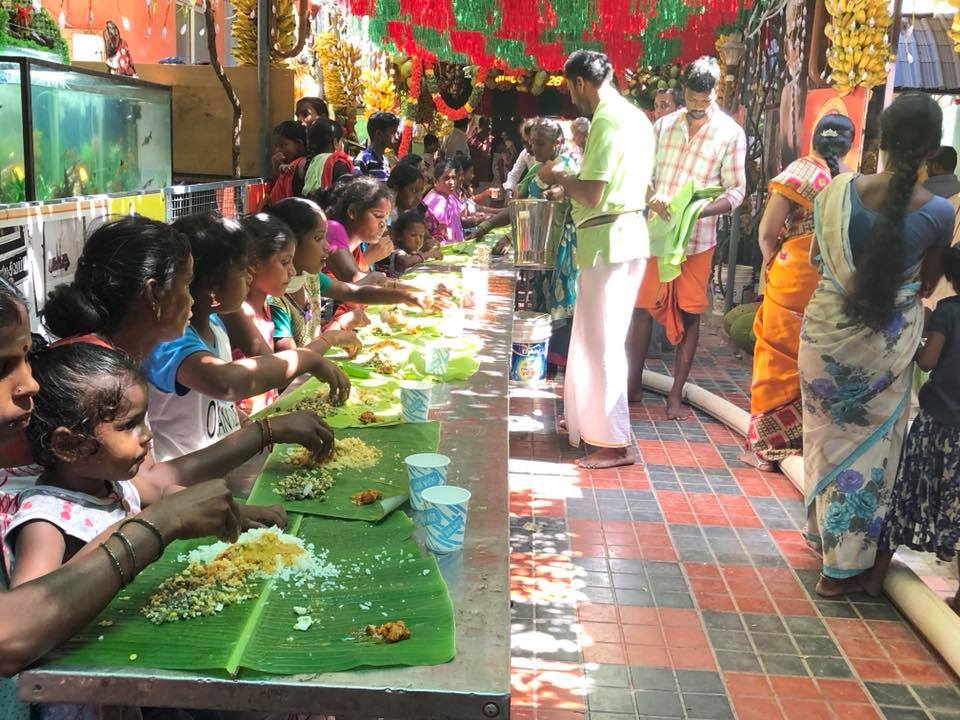 Annadhanam
The act of feeding food for the hungry and deprived is considered as an act of the highest virtue. Our trust provides food to anyone who walks in hungry to our premises in addition to the elders in the home.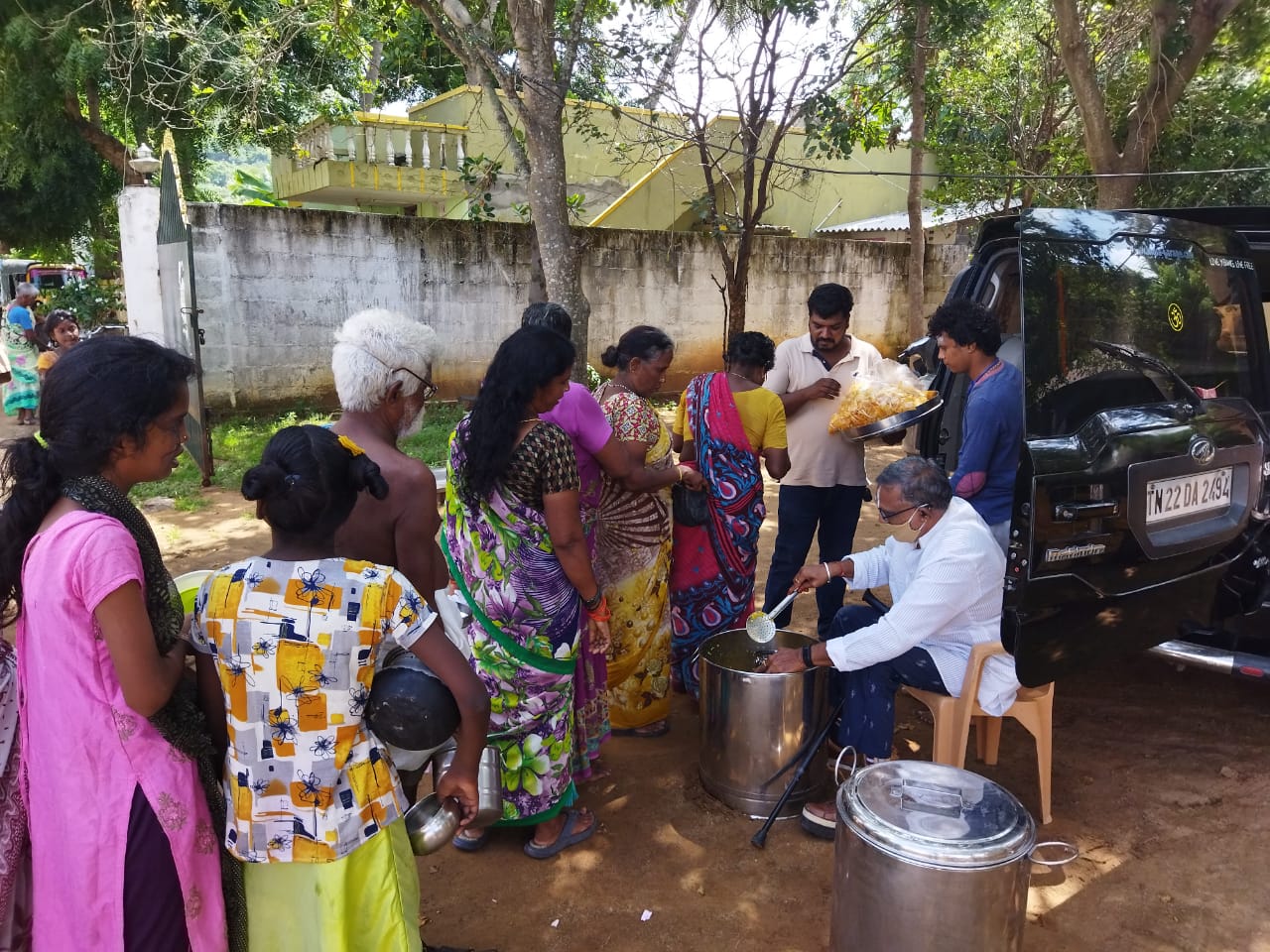 Leprosy Mission
Through Sri Narayana Guru Leprosy Mission, we provide free food to a few leprosy centers in and around Chennai frequently. We also help the patients suffering from serious ailments by providing essentials on a monthly basis.
Educational Scholarship
Sri Poorna Mahameru Trust has been providing educational assistance as scholarships to deserving students from rural or underprivileged backgrounds or children of Leprosy affected for several years. 
Mobile Food Van
We have recently started a mobile food van project which will distribute free food to the homeless and economically backward on the roads on a weekly basis. This initiative will be of great help to the people who are struggling to get food.
You can also donate in Kind –
We welcome donations in kind for the old age home and daily annadanam. We have listed below some of our monthly requirements on priority basis. You can choose to provide the ingredients of any quantity that are feasible for you.
Our trust requirements such as groceries, personal care, cleaning supplies & medical requirements will be listed out in the Humane Website (https://thehumane.life/charity-home/81) and you can choose the product you need to donate and pay for the same. You will get an 80G receipt from the Humane and the products will be delivered to our trust premises.  
Vegetables on weekly basis (Tomato, Potato, Brinjal, Onion, Drumstick, Ladies finger, Carrot, Beans, Beetroot, Pumpkin, Snake gourd, etc..)
Water cans, bottles
Banana Leaves
Echo friendly Plates (பாக்குமட்டை தட்டு/தையல்இலை), Paper cups
Split/Whole Black gram (Uluntham paruppu) –  45 Kgs
Cooking Oil – 75 Kgs
Sugar – 75 Kgs
Jaggery (Vellam) – 50 Kgs
Turmeric – 5 Kgs
Split Bengal gram(Kadalai paruppu) – 25 Kgs
Split gram/Yellow lentil/Toor dhal (Thuvaram paruppu) – 60 Kgs
Green gram (Payatham Paruppu) – 40 Kgs
Cumin Seeds ( Jeeragham) – 2 Kgs
Mustard (Kadugu) – 7 Kgs
Fenugreek (Vendhayam) – 2 Kgs
Cashew nuts – 2kgs
Red Chillies – 25 Kgs
Rice – 600 Kgs
Utensil cleaning powder
Vermicelli (Semiya)
Ghee – 5 kgs
Fruits
Appalam (Pappad)
Pickles
Any other cooking items/ Groceries
Items of general use such as –
Bathing soap
Detergent soap
Coconut oil
Tooth Paste
Talcum Powder
Utensils
New dresses
Cleansing material
About Your Donations, Where & How They are used
The trust is registered as per the Government norms and donations are exempted from tax under section 80G  of IT Act. We are authorized to receive funds from overseas as the  trust is FCRA compliant. Donors. On fund remittance, please send us an Email with mentioning the specific cause you are willing to support. If you don't have a specific cause in mind, the funds will be used for the immediate service in site. Looking forward for your support to a noble cause. 
Do I get a tax rebate for donations?
Yes. Donations are tax-exempt under section 80G of the Income-tax Act.
How do I donate from abroad?
You can donate via our partner Omprakash or you can do a wire transfer to our bank account directly. Details of both are provided in the "Donations" link in our website.
FCRA is the approval from the Ministry of Home Affairs, India to NGOs to receive funds from outside India. Our FCRA number is 075901018.
I have donated to one day's lunch or dinner. Can I come in person and serve the elders?
You are definitely welcome to come and serve. You can also have your lunch along with the elders. Kindly ensure you come by 11:30 AM. There will be a prayer by the elders for the well-being of that day's donor and also for the welfare of the entire universe to be free from hunger. Prayer will be followed by the lunch. For dinner, please speak to our office. 
Can we donate in kind? Do you accept cloth donations?
Yes. Our major requirement is groceries & vegetables. The list of groceries required by us is provided on our website. We also have a tie up with https://thehumane.life/contribute/687 . You can order via their site and get groceries delivered to us. You can also donate via sites such as bigbasket.com, spencers.in. You can also donate via Amazon "Gift a Smile" Programme. 
We do accept new clothes and dresses. We also accept old clothes but we may not use it but send it for recycling.